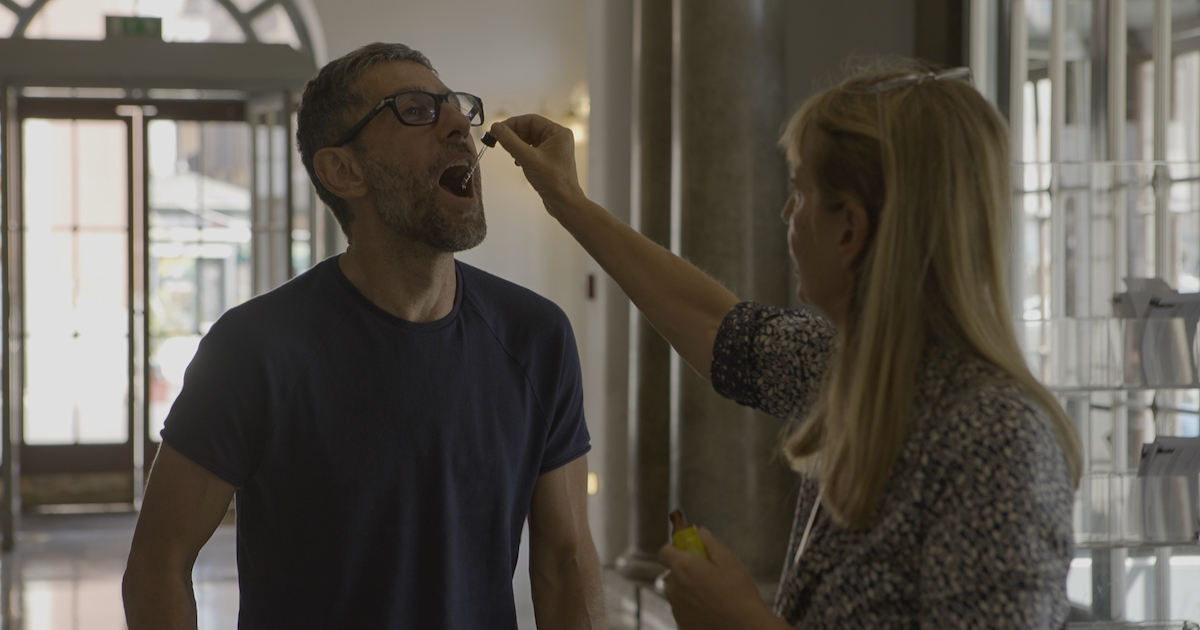 Special Events
SIAMO QUI PER PROVARE
WE'RE HERE TO TRY
by Greta De Lazzaris, Jacopo Quadri
Italy, 2022, 88', color
05 September 22:00 - Sala Corinto
Press, Industry
06 September 11:15 - Sala Perla
Public, all accreditations
Followed by Q&A
06 September 22:00 - mymovies.it
Available on subscription from Italy for 72 hours
07 September 16:30 - Cinema Rossini e Cinema Candiani
Public
subject
Daria Deflorian
Antonio Tagliarini
cinematography
Greta De Lazzaris
editing
Jacopo Quadri
music
Valerio Vigliar
sound
Daniela Bassani
Emanuele Pontecorvo
Jacopo Quadri
Giancarlo Rutigliano
with
Daria Deflorian
Antonio Tagliarini
Monica Demuru
Emanuele Valenti
Francesco Alberici
Martina Badiluzzi
Andrea Pizzalis
Emanuele Pontecorvo
Attilio Scarpellini
Metella Raboni
Lorenzo Grilli
Cecilia Bertozzi
Chiara Boitani

production
Ubulibri
with Rai Cinema
producer
Jacopo Quadri
Daria is getting married, and Antonio is the best man. They are two artists who have lived in the same building for years, but now she's moving to another neighborhood. They get to work on a new project inspired by Federico Fellini's Ginger and Fred, and bring in Emanuele, Monica, Francesco, Martina, and Andrea. First, tap dancing classes, as the script comes together one day at a time, with rehearsals in Rome, Rimini and France, in theaters shut down by Covid-19. Euphoria is running high, despite the uncertain times, and our theater troupe starts to resemble a gaggle of shipwreck survivors, bewildered by the way real life gets confounded with what is tentatively shaping up as the stage production.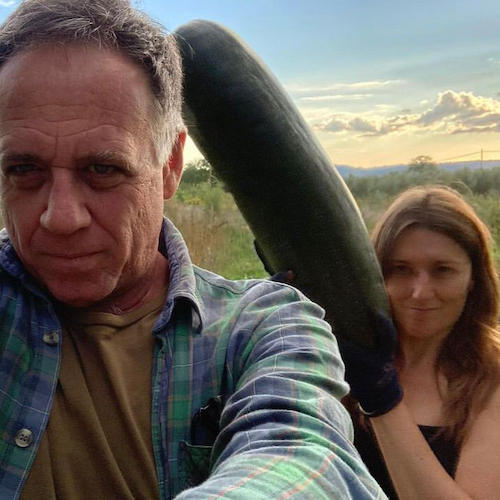 Jacopo Quadri
2022 Siamo qui per provare (doc, with Greta De Lazzaris)
2020 Ultimina (doc)
2017 Lorello e Brunello (doc)
2015 Il paese dove gli alberi volano
(doc, with Davide Barletti)
2014 La scuola d'estate (doc)
2000 Marisa (2000, short)
2000 Un posto al mondo (doc, with Mario Martone)
1998 La terra trema (doc, with Mario Martone)
1997 Saharawi. Voci distanti dal mare (doc, with Antonietta De Lillo, Patrizio Esposito)
1991/1997 Statici 1-5 (short)
Greta De Lazzaris
2022 Siamo qui per provare (doc, with Jacopo Quadri)
2013 Rosarno (doc)
"We agreed to Daria and Antonio's proposal to make a documentary about their new theater project, the idea being to observe and investigate the interference between one's private life and daily routine and creativity. Knowing the way the pair work, we knew that the rehearsals would provide the opportunity to blur the lines between fiction and reality. In fact, rehearsals started with Daria getting married. To heighten the confusion between the theatrical space and the "outside", we felt the need to move with them on the stage and handle the filming ourselves so we wouldn't get in the way. Over the months of rehearsals, in the middle of the pandemic, we experienced all the troupe's feelings of uncertainty, inadequacy, and fatigue. That fear of not getting anywhere that we shared with them took on the shape of life itself, a work in progress, with all the unpredictable directions it takes."
Greta De Lazzaris (Marseille) got her start as assistant to the cinematographer Marco Onorato, then as DOP on documentaries (including L'Orchestra di Piazza Vittorio by Agostino Ferrente, Nadea e Sveta by Maura Delpero, Lorello e Brunello and Ultimina by Jacopo Quadri, This is not Cricket by Jacopo de Bertoldi, and Liberami by Federica di Giacomo, winner of the 2016 Horizons Award at Venice). She is also a set photographer and director.
Jacopo Quadri (Milan) has edited the films of directors such as Bernardo Bertolucci, Mario Martone, Gianfranco Rosi, Paolo Virzì, Marco Bechis, Zhang Yuan, Clare Peploe, Alessandro Rossetto, Laura Bispuri, Ciro Guerra, and Apichatpong Weerasethakul, among others. Head of the publishing house Ubulibri since 2012, he has directed, edited, and produced several documentaries about the theater and also about farming today.