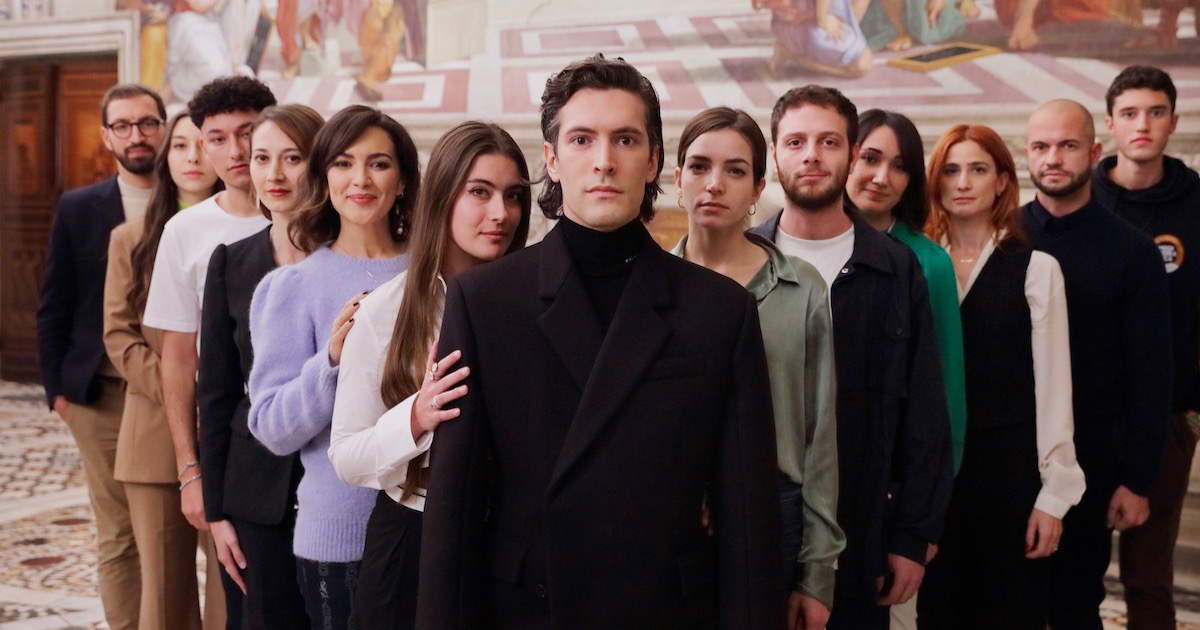 Special Screening
PAROLA AI GIOVANI
by Angelo Bozzolini
Italy, 2023, 54', color
Screenplay:
Giovanni Caccamo, Angelo Bozzolini
01 September 18:00 - Sala Laguna
V.O. IT
Followed by Q&A
Reservation required on giornatedegliautori.com
with
Filippo Scotti (actor)
Guglielmo Castelli (painter)
Jacopo Tissi
(etoile La Scala Theatre
and Bolshoi Theatre)
Laura Marzadori
(first violin
Teatro alla Scala)
Paola Egonu
(volleyball player)
Riccardo Zanotti
(singer-songwriter
Pinguini Tattici Nucleari)
Salvatore Esposito (actor)
with
Virginia Stagni
(manager, Financial Times)
Andrea Bocelli (singer)
Arnaldo Pomodoro (sculptor)
Mario Ceroli (sculptor)
Mimmo Paladino (painter)
Parola ai giovani is a journey, Giovanni Caccamo's personal investigation of his generation's thoughts on change, in a continuum with the singer-songwriter's new album, Parola, in which he relaunched an appeal by novelist Andrea Camilleri, who asked young people to devise a humanism based on words. Through fifteen symposia at universities and an online competition, Caccamo asked all young Italians this question: What would you change about the society you live in, and how?" Over nine-hundred of them wrote back with their answers. And fifteen of these young people, who penned the most brilliant replies, were invited to take part in a performance called Agorà del cambiamento, held in Raphael's Room of the Signatura in the Vatican Museums, to talk about change and the future.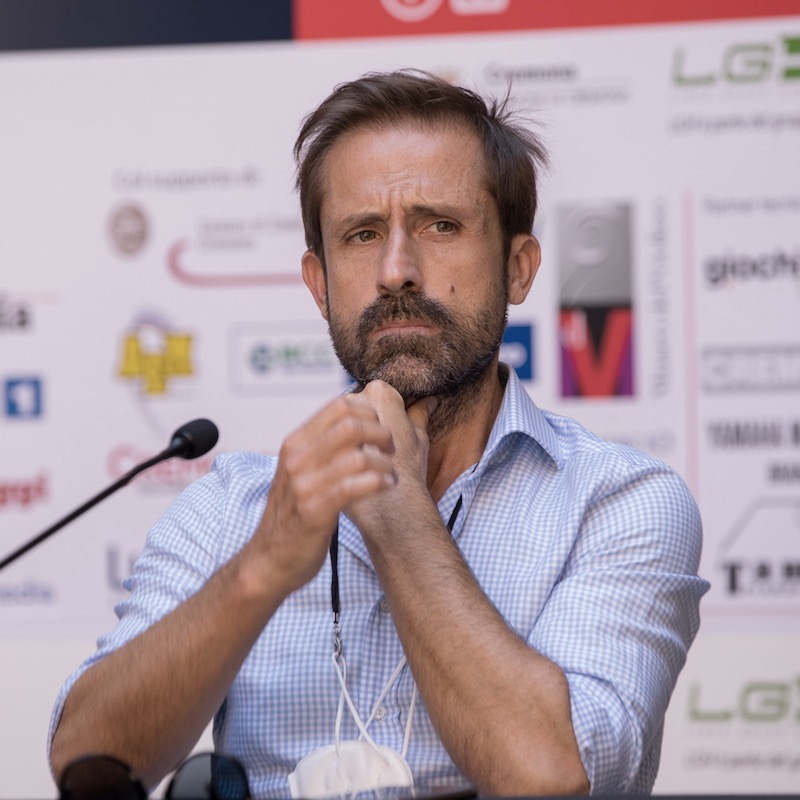 2023 Parola ai giovani (doc)
2022 Il coraggio di essere Franco (doc)
2017 Io sono la Scala (doc)
2013 Il carattere italiano (doc)
2010 Fryderyk Chopin (doc)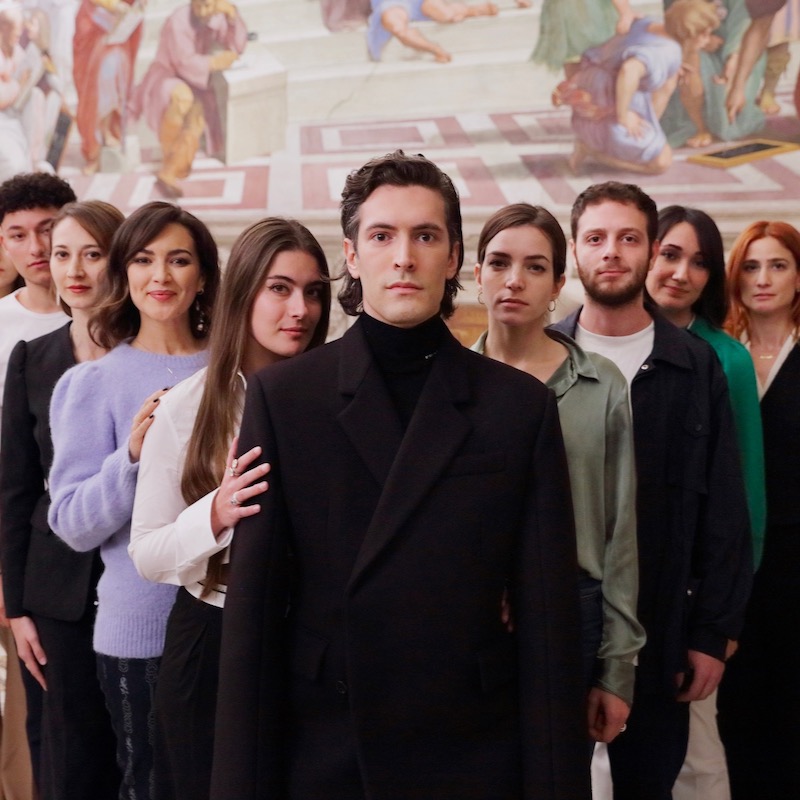 "The crisis we are experiencing is the prelude to an enormous potential change. Our inability to imagine it would mean the death of the future itself. On the threshold of this new spring, after a long season in apnea, and forced to accept a delicate, profound metamorphosis, it is our duty to ask which is the most urgent change to our society that is called for." [Giovanni Caccamo]
Angelo Bozzolini has worked as an AD to various filmmakers, such as Mimmo Calopresti, Michele Placido, Raffaele Mertes, Vincenzo Salemme, and Renzo Martinelli, since 2000. After several years on the editorial end of the political news program Anno Zero, he threw his energy into a career as a writer and director, and since 2015, also a producer. His 2013 documentary Il carattere italiano sull'Orchestra Nazionale dell'Accademia di Santa Cecilia, was shortlisted for the Globo d'oro 2013 and won the Platinum Remi at the Houston Film Festival. In 2020, Bozzolini created, wrote, and produced Raitre's prime time program Che storia è la musica, featuring conductor Ezio Bosso. In 2022, he directed and produced the Raiuno documentary Il coraggio di essere Franco, a tribute to singer-songwriter Franco Battiato on the first anniversary of his death. He is currently working on two projects, the series Voci fuori dal coro featuring Beatrice Venezi and, for Rai Documentari, Enrico Mattei: petrolio è politica.
Giovanni Caccamo is a singer-songwriter discovered by Franco Battiato. A regular at the Sanremo Festival, he competed in the "Big" category in 2016 and 2018. In 2015, he was the winner of the Nuove Proposte lineup, as well as the Mia Martini Critics' Prize, the Lucio Dalla Pressroom Prize, and the E. Luzzati Award. Caccamo has collaborated with artists such as Willem Dafoe, Andrea Bocelli, Patti Smith, Lang Lang, Antony and the Johnsons, Franco Battiato, Elisa, Patty Pravo, Liliana Segre, Michele Placido, Carmen Consoli, Malika Ayane, Matteo Bocelli, Emma, Elodie, and Francesca Michielin, among other Italian and international stars. In September 2015, Caccamo lent his voice to a Disney Pixar short, Lava, prior to the hit Inside Out, performing a duet with Malika Ayane. Since 2023, he has been the Artistic Director of the cultural programs at the Fondazione Arnaldo Pomodoro. On May 12, 2023, Caccamo's book Manifesto del cambiamento was published by Treccani with an extraordinary preface by Pope Francis and the thoughts of sixty young people on a changing future. It contained twelve new works by artists Arnaldo Pomodoro, Emilio Isgrò, Fabrizio Plessi, Ferdinando Scianna, Francesca Cataldi, Giulia Napoleone, Guido Strazza, Mario Ceroli, Maurizio Cattelan, Michelangelo Pistoletto, Mimmo Jodice, and Mimmo Paladino.