MIU MIU WOMEN'S COMMITTEE
04 September 11:00 - Hotel Excelsior – Spazio della Regione del Veneto
Free entrance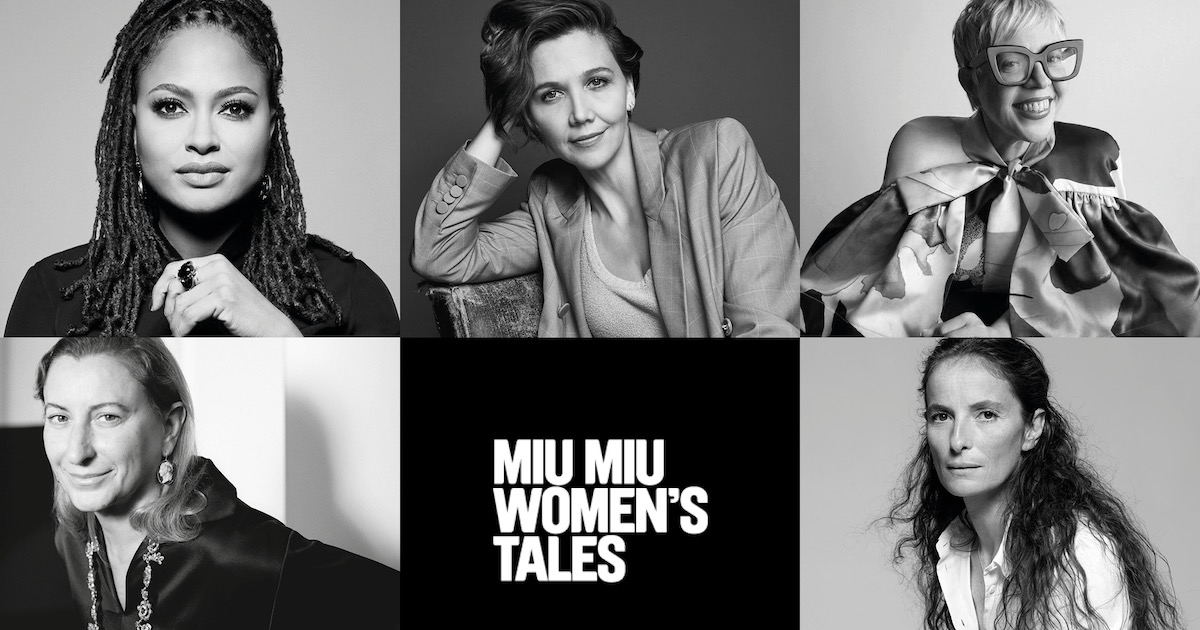 Female film forthcoming: the new Miu Miu Women's Tales committee sets out its stall.
Conversation with Women's Tales Committee (Ava DuVernay, Catherine Martin and Maggie Gyllenhaal), moderated by Penny Martin.
On this special occasion, Miu Miu will reveal the new Miu Miu Women's Tales Committee, a group of distinguished film-world thought leaders who will steward the influential short-film series into its next defining era. Consisting of award-winning filmmaker and director of Women's Tales #5, Ava DuVernay; renowned actress, writer and director Maggie Gyllenhaal; and four-times Academy Award winning costume and set-designer Catherine Martin, alongside cofounding Committee members Miuccia Prada and Verde Visconti, the Committee will shape the intellectual, cultural and industry direction of Women's Tales.
Now in its second decade of visionary activity, Miu Miu Women's Tales remains one of the only consistent commissioning platforms exclusively for female filmmakers. The Committee's mandate includes outreach to new fans, creators and viewers; evolving the Women's Tales mission to synchronize with developments in the film world; generate renewed visibility for the Women's Tales universe; and critically reframe the Women's Tales narrative moving forwards.
MIU MIU WOMEN'S TALES COMMITTEE QUOTES
Miuccia Prada
"Cinema has been a longtime passion and has also been an important backbone of my education. With the Tales we created a platform for talented directors: through their gaze we have opened a conversation on the world of femininity and vanity and what it means today. A conversation with women about women."
Verde Visconti
"I believe in the power of cinema and conversations. With the Miu Miu Tales I feel we have created an incredible network of passionate individuals that are willing to share their personal stories and experiences and continue the much needed conversation on women filmmakers today."
Ava DuVernay
"I know first-hand the powerful impact that the Miu Miu Women's Tales has on filmmakers like myself. It opens doors and hearts to the gorgeous complexities, possibilities and opportunities of cinema."
Catherine Martin
"The intersection of fashion and narrative has always fascinated me – how clothing can tell a story, evoke emotions, and become an integral part of the cinematic experience. However, Miu Miu Woman's Tales is more than just about fashion; it is a concrete manifestation of Miuccia Prada's commitment to developing distinct female cinematic voices. I am thrilled to be part of a committee that strives to celebrate women filmmakers both established and emerging that look to the future, pushing the boundaries of storytelling in film."
Maggie Gyllenhaal
"I have had a long and lovely relationship with Miu Miu. I am a great fan of both their fashion and their woman's stories film series. They have partnered with some of the directors I most admire from Lucrecia Martel to Alice Rohrwacher. Miu Miu is committed to offering an honest depiction of women, in all our unusual beauty and idiosyncrasies, which is, of course the most compelling and exciting kind of portrayal."