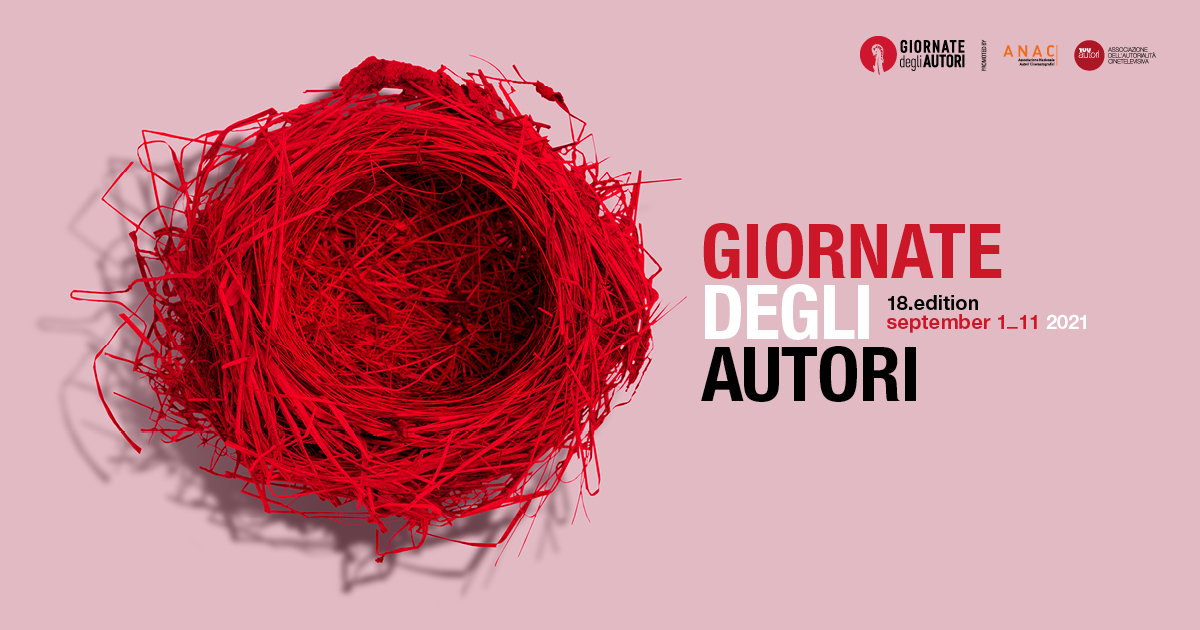 28/07/2021
Our first 18 years
by Gaia Furrer
Giornate degli Autori turns 18. And with adulthood comes a budding, rudimentary awareness. This is the age of transformations and new responsibilities; of detachments and future promises; of rebellion against existing models, and the search for one's own voice. It's the year when we first take stock, and take our first fragile, or radical, stands, as our bodies are changing. It's the year when we ask what it all means. And, at the end of our selection process, that's just the question we felt the directors of the films we chose were asking, the undercurrent of their work.
The men and women behind the camera, in the films tapped for our competition, plunge us into stories in which the characters do nothing but wonder, more or less openly: Who am I? Is this who I want to be? Am I comfortable with the life I have chosen? The issue of identity is key to all the films on the lineup. Each of the twelve filmmakers who made the ten films in competition (two of which are co-directed) has reached out to us to guide us through their journey of self-discovery.
We meet an actress at the top of her game, Virginie Efira, who plays a woman with two identities in a thriller reminiscent of Hitchcock: a sort of Vertigo as seen from a woman's point of view (Madeleine Collins, third feature by France's Antoine Barraud). Two young lovers wander the deserted streets of a Chinese city in the middle of the lockdown, trying to reinvent themselves, in a playful yet liberating attempt to not feel the weight of reality (Shen kong, the debut film by Chen Guan). We find a sound designer (played by masterful actress Marta Nieto, winner of the Horizons Award for Best Actress for her role in the film Mother by Rodrigo Sorogoyen), afflicted by a mysterious neuro-acoustic illness and forced to reconsider her entire existence (Tres by Catalonia's Juanjo Giménez, winner of the Palme d'Or at Cannes, and shortlisted for the 2017 Oscars® for his short Timecode).
Then there's a policeman who finds love, unexpectedly, in a queer melodrama that implicitly connects a toxic male identity with present-day Brazil under Bolsonaro (Private Desert by Aly Muritiba); a girl in a rehab facility, where the power plays inside the group can be scrutinized (the Rumanian Immaculate by Monica Stan and George Chiper-Lillemark); an arduous grieving process and the friendship between women as a concrete way to start over, with magic realism serving as the catalyst for emotions that would otherwise overwhelm the two characters (the Argentine Dusk Stone by Iván Fund); and a young woman taking care of her dying father and forced to look back over her entire life, interweaving past and present (Anatomy, the debut film by Poland's Ola Jankowska).
Lastly, we meet three characters who, in different ways, straddle two worlds, perennially seeking their own identity, and wavering between feelings of belonging and alienation. Adnan is a man who has lost his way, a stranger in his own world, unable of identifying with those around him; he's the protagonist of the first feature film to be filmed in the Golan Heights, Syrian territory occupied by Israel since 1967 (The Stranger by Ameer Fakher Eldin). When a bond is broken between two sisters, one of them transforms into someone new in the name of belonging and resistance (Tu me ressembles, the directorial debut of well-known Egyptian former-journalist Dina Amer, executive-produced by Spike Lee and Spike Jonze). Last but not least, Jamila is the young protagonist of our only Italian title in competition: a teenager originally from Morocco, now living in Naples and ever torn between looking to find her own place in the world and giving up in the face of enormous challenges, which make her literally grow up before our eyes, like a character out of a Linklater film, part fiction, part documentary (Californie by Alessandro Cassigoli and Casey Kauffman, known for their award-winning doc Butterfly).
The themes of a search for meaning, film as private and collective memory, and the relation between past and present, underlie the three documentaries out of competition. Bianca Stigter, the Dutch historian and cultural critic, examines a short amateur film made in 1938, the only footage existing of a Jewish village in Poland that was wiped out during the Second World War; she gives us a film about the meaning of images and the opportunity to reconstruct the story of a lost existence (Three minutes. A Lenthening, narrated by Helena Bonham Carter and produced by Steve McQueen). The Franco-Israeli filmmaker Michale Boganim returns to Venice ten years after her film Land of Oblivion, with a highly personal road movie that takes on something taboo in Israeli society: the systematic discrimination against Jews coming from Arab countries, on their arrival in the Promised Land (The Forgotten Ones).
And after her Horizons Award for Best Film for Libera Nos in 2016, we're pleased to have back Federica Di Giacomo back in Venice this year with The Palace, an intensely moving portrait of a group of friends who, in a documentary twist on The Big Chill, reunite in later life for the funeral of the most emblematic member of their group, and a celebration of a life cut short.
Of our Special events screening out of competition, three Italian films tackle music, theater or other arts. Senza fine is a portrait of and a tribute to Italian singer Ornella Vanoni, but above all, as its director Elisa Fuksas explains, the search "for the proper remove to tell the story of Ornella Vanoni: not the life of Ornella Vanoni but the revelation of her intimacy that's on show." Il silenzio grande is the third film directed by actor Alessandro Gassmann, based on the play by the same name by Maurizio De Giovanni, in which Massimilano Gallo, in a superb turn, comes to the grudging awareness that living doesn't mean just being alive. Lastly, Lovely Boy, the story of the comeback of a Roman trapper (with a virtuoso performance by Andrea Carpenzano), is "a classic parable of ruin and rebirth that shows the difficulty of growing up, at any age, and the scars that remain long after reaching adulthood." Directed by Francesco Lettieri, a cult director on the Italian indie film scene, Lovely Boy is the closing film for the official selection, and we are sure we couldn't have picked a better title to usher out Giornate's first year of being "legal"!