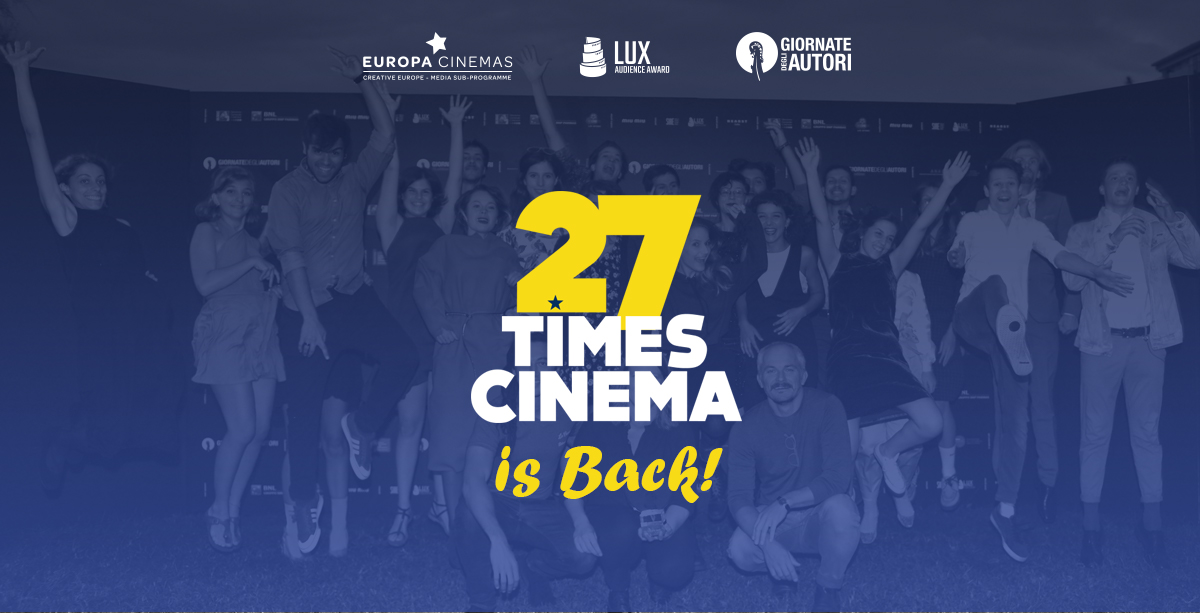 05/05/2021
27 Times Cinema 2021
27 Times Cinema was launched jointly by the European Parliament's LUX Audience Award, Giornate degli Autori and Europa Cinemas in 2010.
27 young film lovers chosen among the young audience of Europa Cinemas network members, will attend the Venice Film Festival and will constitute the Giornate degli Autori Jury awarding a prize of 20,000€ to the best film of this year's selection.
During Venice, the 27 jurors will also take part in workshops with audiovisual industry professionals and will share their Venice experience online on Cineuropa and Europa Cinemas' social networks.
Moreover, after the festival they will become LUX Audience Award ambassadors and will be actively involved in promoting and organizing the LUX Audience Award.
The cinemas taking part in the call for application this year are:
KIZ Royalkino (Graz) / StadtKino im Künstlerhaus (Vienna) / Sphinx Cinema (Ghent) / Galeries (Brussels) / Sauvenière, Le Parc, Churchill (Liège) / Dom na Kinoto (Sofia) / Lucky (Plovdiv) / Urania (Osijek) / Art-Kino (Zagreb) / Rialto Theatre (Limassol) / Scala (Brno) / Kino Lucerna (Prague) / Nicolai Biograf (Kolding) / Kino Artis (Tallinn) / Kino Iiris (Lahti) / Le Méliès (Montreuil, Paris) / Cinéma Katorza (Nantes) / Cinéma ABC (Toulouse) / Atlantis, Odeon (Mannheim) / Harmonie, Cinéma & Casino (Frankfurt- Aschaffenburg) / Mikrokosmos (Athens) / Olympion (Thessaloniki) / Puskin (Budapest) / Tisza Mozi (Szolnok) / IFI (Dublin) / Cinema Beltrade (Milan) / Cinema Lumière (Bologne) / Stensen (Florence) / Splendid Palace (Riga) / Kino Bize (Riga) / Skalvija (Vilnius) / Utopia, Kinepolis (Luxembourg) / Eden Cinemas (Saint Julians) / Spazju Kreattiv (Valletta) / Rialto (Amsterdam) / LUX (Nijmegen) / LantarenVenster (Rotterdam) / Kino Pod Baranami (Krakow) / New Horizons (Wroclaw) / Trindade (Porto) / Cineclube de Tavira (Tavira) / Elvire Popesco (Bucharest) / Cinema Victoria (Cluj) / Cinema Ateneu (Iasi) / Kino Lumiere (Bratislava) / Kino Usmev (Kosice) / Mestni Kino Domzale (Domzale) / Kinodvor (Ljubljana) / Mestni kino Ptuj (Ptuj) / Renoir Plaza Espańa (Madrid) / Numax (Santiago de Compostela) / Cines Van Dyck (Salamanque).