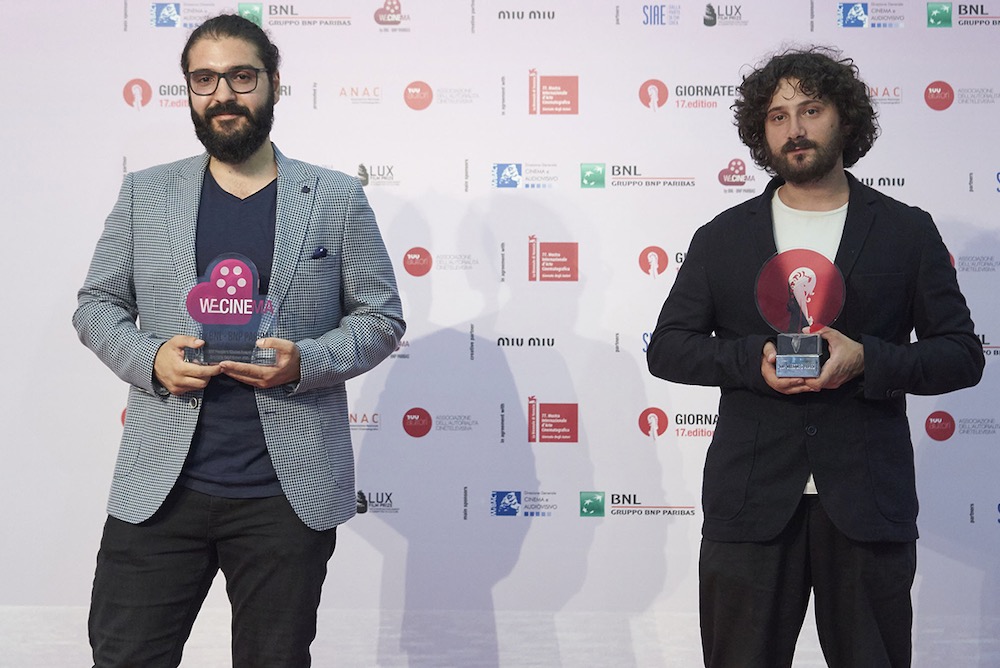 12/09/2020
We took the plunge, and glad we did
The enormous gamble taken by the entire festival has paid off: to meet up again on the Lido and lure audiences back to real theaters. That human contact, that exchange of views proved essential at this truly complex time: done safely, but with our hallmark conviviality. Giornate's iconic venue, the Villa degli Autori, extended its reach to Edipo's boat moored in the lagoon as well as Isola degli Autori, an event space reopened for residents of the Venice Lido and now for our curious festival audiences, thanks to a fruitful collaboration with the social club Edipo Re. Plus our virtual venues, from the MyMovies theater to our social networking, live streams, interviews and online debates with audiences.
"To overcome the fear of not being able to swim this year in that sea of stories that is the film industry, which is pure joy, and also our calling," declares Giornate's Artistic Director Gaia Furrer, "we decided to cannonball right into the water, as our poster for 2020 shows. I am truly delighted that along with the invaluable efforts of our programmers, we were able to put together a team of courageous filmmakers who allowed us to travel the world over from Venice itself, and rediscover that whole range of emotions that each of us, as a filmgoer, harbors inside."
"This year's lineup was proof, if any was needed, that cinema always takes the long view, anticipating emotions, hopes and fears that now touch us all, and which artists seem to have sensed in advance," observed General Delegate Giorgio Gosetti, who added: "Giornate placed its bets on that courage to live, love, and look within, and today we are proud to have been a vital part of an edition of the Venice Film Festival that teaches us not to give in to our fears."
"Yes, it was the right call," says Giornate President Andrea Purgatori, "with a slate that brought us superb independent films, especially from Eastern Europe. Not only: also a debate on the future of filmmakers, in light of the new European Copyright Directive. We are very proud."
Ten films in competition representing 26 countries ranging from China and Russia to the United States and South American nations, as well as Europe, Italy and the Venetian Lagoon. Five first films on the competition lineup, 4 special events, 11 women behind the camera. Plus 412 photos published in the illustrated account of Giornate in our official gallery, out of 7,000 total shots. Not least, the social networks: over 40,000 Facebook interactions and 13,500 views of our Instagram stories.
Cheers to our winners this year: Philipp Yuryev, on his feature directorial debut with The Whaler Boy, takes home the 2020 GdA Director's Award; and another first film won the BNL People's Choice Award: 200 Meters by Palestinian filmmaker Ameen Nayfeh. Last but certainly not least, Serbian director Ivan Ikić was honored with the Europa Cinemas Label for Oasis.

A fond farewell to our many guests and all those personalities, from filmmakers, actors, speakers at our talks, friends and musicians, who came on board for this year's sailing. They include jury president Lapid Nadav, Michele Placido, Amira Casar andAnna Foglietta, as well as Ali Suliman, Bruce LaBruce, Oliver Stone, Vinicio Capossela, Lodo Guenzi, Marcello Fonte, Orietta Berti, Elisabetta Sgarbi and Francesco Bianconi, plus Gianfranco Rosi, Salvatore Esposito, Jasmine Trinca, Irene Jacob, Clive Owen, Andrea Carpenzano, Nathalie Emmanuel, Mati Diop, Emma Corrin, Mona Fastvold, Francesca Hayward, Vanessa Kirby, Michela Murgia, and Elio, and many more.
Giornate degli Autori's 'coming of age' tale ends here: see you in 2021, when we turn 18! Adulthood awaits!