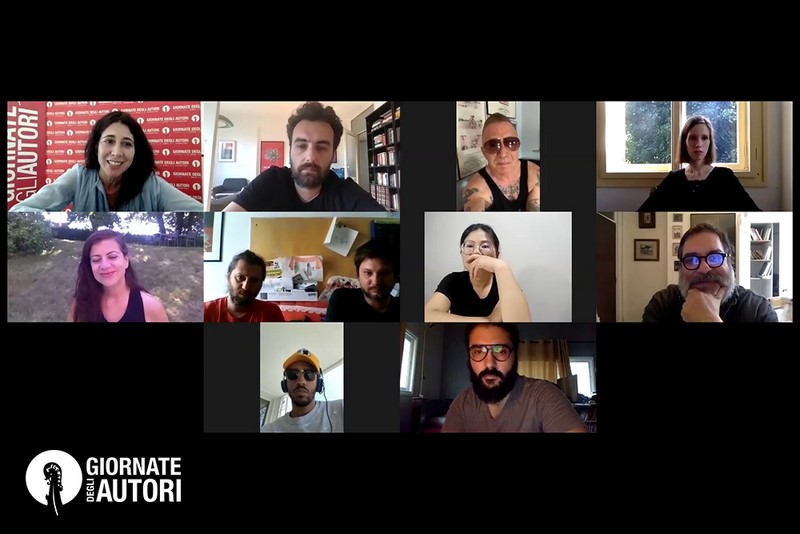 23/07/2020
Travels with Giornate
by Gaia Furrer
Get ready for an amazing journey this year in the company of the Giornate degli Autori competition lineup. It starts in rural China in the 1990s (Mama, sober and remarkably mature debut by Chinese filmmaker Li Dongmei), leaps to Palestine and its horrendous dividing walls (200 Meters, an Italian-Palestinian co-production directed by Ameen Nayfeh and starring Ali Suliman, one of the top Arab actors today), then arrives in Europe, particularly Eastern Europe, the focus on which happens to be one of the major novelties of this year's edition. Interestingly, it wasn't even planned but came into being before our eyes, a development we felt we had to bear witness to.
Giornate will take you from Russia's Far North, a Siberia ambivalent about the consumer culture (The Whaler Boy, a coming-of-age/adventure tale directed by newcomer Philipp Yurye and co-produced by the late Marion Hänsel, whom Giornate wanted to remember this year), then to Moscow, with its political secrets and moral dilemmas (Conference, the fourth film by Ivan I. Tverdovskiy, and on to Hungary and impossible love affairs (Preparations to Be Together for an Unknown Period of Time, the sophisticated second film by Lili Horvát). Not to mention Serbia, Slovenia and Bosnia and Herzegovina, all in the same film, the moving Oasis by Serbian filmmaker Ivan Ikić.
Italy is obviously on the itinerary: specifically Puglia, with a human and a family tragedy, Stonebreaker by the De Serio brothers. France and Algerian roots appear in Honey Cigar (in a sensuous debut by Kamir Aïnouz, the sister of the well-known Brazilian filmmaker Karim Aïnouz). Giornate could hardly resist crossing the Atlantic and washing up in Canada (Saint-Narcisse by Bruce LaBruce) and the United States, with its harrowing conflicts right now in the public eye (Residue, a stirring debut by Merawi Gerima). Lastly, Giornate drops down to Santiago de Chile, setting of a queer love story at the time of the Pinochet regime (Tengo miedo torero by Rodrigo Sepúlveda).
That's our official competition, boiled down to titles, numbers and geographical provenance; journeys through space, journeys through time. But a lineup is more than its numbers. That is to say, at the beginning, when working out venues and slots at one's disposal, numbers are right up there. But then you see the films and have to choose between them (so exciting to say yes, so painful to say no). And that's when ideas and feelings, passions and unexpected underlying themes emerge and come into play. Only after we'd selected our eleven films did we realize that we had many stories about men and women seeking out places unexplored or lost to them - stubbornly, courageously striking out to find their own place in an often hostile world, or one simply indifferent to individual lives. Departures, homecomings, journeys to find oneself or find some right to be alive, in a startling reawakening of feelings and passions playing out against the backdrop of social and political turmoil. In the course of these travels, a map takes shape as Giornate charts the very desire for love - a love that defies conventions, age, and gender.
Special events out of competition this year include the two new auteur shorts joining the Miu Miu Women's Tales series, directed this time around by Polish filmmaker Małgorzata Szumowska and the French-Senegalese Mati Diop; the romantic road movie by Giorgia Farina, starring Jasmine Trinca, Clive Owen and Irène Jacob (Romantic Guide to Lost Places), a bizarre, surreal tour de-force by the duo Flavia Mastrella and Antonio Rezza, Samp; dance-hall punk courtesy of the Extraliscio band, a sort of Leningrad Cowboys from Ferrara/Romagna, as told by Elisabetta Sgarbi (Extraliscio-Punk da balera); and The New Gospel, in which the famous Swiss playwright and director Milo Rau does the Gospels as the passion play of an entire civilization.
The edgiest offerings on the 2020 Giornate degli Autori slate are on show on our Venetian Nights lineup at the Isola degli Autori, which is a concentrate of the experimental tradition developed by Isola Edipo and Giornate in parallel. This is a new space jointly conceived by Giornate and Silvia Jop and devoted to the creative bonds between the film medium and the other arts, from theater to the visual arts and music.
With a sole exception that proves the rule (To the Moon, an ode to the lyrically evocative moon imagined by the Irish filmmaker Tadhg O'Sullivan), we chose to reserve the Isola degli Autori lineup to Italian directors.
The art of theater is given its due in the celebratory 50 - Santarcangelo by Michele Mellara and Alessandro Rossi, which pays an anniversary tribute blending clips and commentary, past and present, to Italy's most famous theater festival. On the fine arts front, in Agalma, debut filmmaker Doriana Monaco enlists Sonia Bergamasco and Fabrizio Gifuni to take a close-up look at the ever-surprising Archaeological Museum of Naples.
Three of the Venetian Nights turn the spotlight on music. There's the magnificent 4K restoration of George T. Nierenberg's homage to the pioneers of gospel music, Say amen, somebody (1981), distributed in Italy by the Reading Bloom.
Then there's the blockbuster concert from the late days of the last century, Pink Floyd in Venice, the unforgettable concert broadcast worldwide on July 15, 1989, as the legendary band performed on a floating stage in front of St. Mark's Square, surrounded by 200,000 spectators.
James by Andrea Della Monica is an all-Neapolitan portrait of the jazz-blues saxophonist James Senese, who will be on hand on the Lido to perform gems from his over-fifty-year-long career.
A special musical touch can be found in the only feature film on the program, Est by Antonio Pisu, which opens Venetian Nights and takes us back to the revolutionary year 1989. Three young Italians - one played by Lodo Guenzi, vocalist and guitarist for the band Lo Stato Sociale - travel to Romania, where they meet citizens on the brink of freedom, poised to embrace a different future.
On one of these special Nights, the pandemic of 2020 is the backdrop to the near-omnipresent voice of Elisa Fuksas, whose film iSola is an intimate portrait, courageous and fragile at once.
Last but not least, the Venetian Nights - Isola degli Autori showcase features two short films made during the lockdown that manage to avoid being pedantic and rhetorical as they rethink the relationship between nearness and distance. The animated short Solitaire, by actor and director Edoardo Natoli has a marvelously light and ironic touch as it explores the borders between the human body, age and architecture and helps us transcend them. In This Moment is a little gem, delicately filmed by photographer Serena Vittorini and edited by Esmeralda Calabria; it's an intimate look at the love beween two women, which harbours the contradictions of all loves - and of us all.